Apply All 11 Of These Tactics & Watch Your Sales Go Up!
So you've started your own cleaning business – which is an excellent idea. It didn't cost too much to get all the equipment and resources you needed.
You can now provide cleaning services to both homes and offices. As long as you do a fantastic job, you can gain a lot of customers and make a good profit.
If you're just starting your cleaning company, you will want to find the cheapest and fastest ways to getting customers.
Unfortunately relying on just work of mouth and hoping everyone will hear about the fantastic job you are doing cleaning houses – is wishful thinking.
One of the fundamental problems most business face is the generation of new leads.
Without a constant supply of leads, they're faced with a never-ending battle to generate sufficient cashflow for the business to survive from one month to the next.
Because if the customers stop coming, cashflow and profits dry up and the business faces a slow death.
When the phone stops ringing or there no new emails inquiries in the inbox, most small business owners think it's time to buy some Hipages leads or put an ad on Gumtree or Google Adwords.
They tend to look for "quick-fix" solutions. Sure, you may get some leads, but they are not consistent and don't always result in sales.
Many businesses, even those that get started with a brilliant marketing strategy, make the mistake of thinking of marketing as a "solution" instead of as a "process."
A solution provides a one-time fix to an unresolved problem.
A process is a set of strategies that produce a sustained outcome, assuming those strategies are consistently employed.
The primary goal of any marketing effort is to identify and attract qualified leads to the business. Period.
If a company desires to keep its doors open, the organization will always need leads and new business opportunities. To that end, marketing cannot not be a one-time problem needing a quick-fix.
Like nearly all local businesses often face stiff competition when it comes to marketing.
Because local business owners are too busy running their business and servicing customers, they tend to put marketing into the "to do later" or "don't need it yet" category.
Unfortunately, this category tends to get put off or completely ignored.
Promoting a business online is getting difficult. It's not enough to have a website. You need to have a strong social media presence, set-up effective ad campaigns and have a strong long-term promotional strategy in place.
That's why online marketing is no also no longer just an option. It's mandatory.
Here are a bunch of proven marketing tactics. You can apply these to reach more qualified customers and give your company greater local exposure.
However, remember that for your business to consistently gain new clients, get more inquiries and keep the phone ringing, you must run multiple campaigns – all at the same time!
Here are some ways on how to market your cleaning business and get money coming in fast.
Website
A professional great looking website can help potential clients find you. You can explain what you do, why customers should use your service, and even take bookings and payments online.
It's a fantastic way to reach out to people who might not know of your service otherwise.
You'll need a website that's easy to access and navigate. Professional websites these days need to be usable on all browsers, as well as mobile phones and tablets.
Once you've created your website you'll need to use a digital marketing agency to bring people to your site. Digital marketing will help you convert those inquiries and leads you get into paying clients. They will implement techniques like SEO, PPC, SMM and content marketing.
Word of Mouth/ Referral
Word of mouth is a free way to get customers by telling friends and family that you have a cleaning business. One idea is to offer to clean their home for them for free to start with, and once they see how good of a job you do they will likely tell others about you.
Ask them for referrals and testimonials in return for your free work. That's a great way to kick start your business
Asking for referrals is quite simple – say something like "Hey do you know of anyone who's too busy working and doesn't get the chance to clean their house?"
Now remember to call the referral – here's what you can say "Mr/Mrs Client, So & so gave me your number and mentioned that your quite busy with your work and sometimes don't have the time to do some house cleaning. They use our services quite regularly and mentioned that I should talk to you – I'm just wondering if I can come over sometime and give you a free quote?"
You'll be surprised how this simple script can earn you a ton of new business 
Flyers
A cheap and quick way to get the word out is by creating a simple printer paper flyer in Microsoft Word or a free graphic design software like Canva.com. Alternatively, you can hire a freelance on fiverr.com  to create a professional flyer for you
Flyer drops can get expensive however they can be quite effective when distributed to the right target audience.
It's important to have an attractive flyer if you're going to do a flyer drop. Too many people try and include everything imaginable about their company on one flyer. But imagine how much junk-mail/flyers you get already. You really only notice a couple of important headlines, so keep your flyers simple and clear, and include a special that encourages people to call in by a certain time. It's important to create urgency with this kind of marketing.
Use the "lost leader" tactic here where you may offer a product at break even or even a slight loss. The idea is to get the initial inquiry first then upsell them to higher priced services and products.
Keep it simple by putting your business name, contact details (phone number, email, and website), and an offer with an expiration date.
Remember your offer must provide excellent value to your prospect. Treat this flyer as a hook or bait – try using the word FREE or ½ price and SALE
Something like FREE Window Cleaning When You Get Your House Cleaning Today can work really well
Then you can hand them out in your neighbourhood in the area that you would like to clean homes in.
Prospect Local Businesses
Don't forget to ask some local business owners if they would like their windows cleaned! You may score some long-term cleaning jobs just by introducing yourself to local business owners.
For local retail business you can ask them if you can leave some flyers on their counter. Here's a simple and effective script
"Hi Mr Business Owner, I'm just introducing my services in the area. I offer domestic and window cleaning services and would love it if you would allow me to leave some flyers in your store. In return for your kind gesture I'm happy to clean your shop front windows"
Remember, if you offer your services for free or in exchange for something, they are much more included to assist you. Just ensure you do a good job with the window clean otherwise you'll leave a bad impression.
List your business in popular directories under relevant categories
Find relevant directories for your business and list it under the right categories. This improves your search visibility.
As well as big directories like Yelp and Yellow Pages, you should also try local directories that have categories like "Cleaners" Or "Cleaning Services"
The more directories you can list your business in the more chances you will have of getting found  and of course that's a great way to build local SEO
Clearly mention your business hours, contact number and location on your website
This should be obvious. Still, many local business sites unintentionally make it difficult for visitors to find their address or mobile number on the website.
The same thing can be said about business hours. These are possibly the most important aspects of your website and need to be easy to find for visitors.
So don't forget to make your address, contact number and business hours clearly visible. It is best practice to include a Google Map widget to make things even easier for your potential customers.
It's also an important SEO ranking factor in Google's NAP –  NAP stands for Name, Address, Phone Number.
NAP is critical for businesses wishing to rank well in the local organic search results, because search engines like Google take the data into account when determining which companies to show for geo-targeted searches. Hiring a good digital marketing agency can help you with creating local organic rankings.
Promote positive customer reviews through your website, social media, emails and online ads
If your business has an active online presence (which it should), then customers will naturally leave reviews about your business. While it's your duty to deal with the customers who leave any negative reviews, don't forget to interact with the positive reviews as well.
Engage with positive reviews and increase their visibility. You can even consider providing special offers and/or discounts for customers that submit reviews online.
Maintain your Google My Business page
Google My Business is very important to ensure the local visibility of your business. Always keep your business data updated there. If you haven't already claimed your business or your business isn't listed in Google My Business – take care of this immediately! Or get in touch with us.
Here are some tips on how you should utilize your Google My Business page:
List your business under the "Cleaning Services" category
Upload photos of your recent projects
Request your customers to post reviews
Keep your business name, address and the phone number the same as what you have on your website (NAP)
Utilize 'Google Posts' if you have special offers
Sponsor local events
Sponsoring local events and supporting local community is a proven way of establishing a good image for your business. It will also make your business more recognizable.
It's not just about spending a lot of money. Supporting an important local cause is going to be appreciated by the community and improves the overall profile and brand awareness of your business.
Here's are some ways you can benefit by sponsoring a local event
Brand Visibility – Sponsorships put your brand visuals in front of large audiences who haven't heard of your business.
Targeted Marketing – Whether you're involved with a local charity drive or craft fair, the right event attracts highly interested customers.
Efficient Lead Generation – Think about the amount of time you normally spend hunting for 10 qualified leads. How about 20, 50, or 100? Not only do events bring you a host of compatible customers, but they also show the human side of your business.
Return on Investment – Whether you plan to sell or not, events are about starting quality relationships. The goal is to leave with a list of leads to follow up on afterward. You don't necessarily need to make a huge profit on event day, as long as you have a long-term way to leverage your investment.
Door-to-door marketing
When you're just starting, this is THE best way to start. A lot of people are afraid to do this, or don't have the hustle to do it. Which means more leads for you! Basically, every hour you go door-to-door, you'll get 1-2 leads.
Pick neighbourhoods that are higher income, suburbs that are owner occupied – not high rentals.
Alternatively, if the homeowner is not available you could leave a door sign with this script.
"Hi, my name is Jim from House Cleaners Choice. Do you have any windows that need cleaning? Or are you too busy and don't get to clean the house? We are offering a free window clean in your area today. Call #your# or visit www.yourwebsite/free-window-offer "
You'll want to set up a time later to actually do the free window clean. Some people will expect you to do the estimate right then and there, but don't do this unless they insist. You'll have a much higher closing rate setting up a special time, when all the decision-makers are present for the bid.
Combined with your sign and mailings, a potential customer could be exposed to your company many times within a week or two.
This is a strategy you may only employ when you're starting out (hopefully you're otherwise too busy), but it can be worth it to drum up leads at slow times of the year as well.
Lawn Signs
Lawn signs are one of the best investments you can make for your company.
While you're providing your cleaning services at a house, ask your client if you can put up a lawn sign with your company info in their front yard. (applicable if you see clients at their premises)
This is a GREAT way to get referrals because people can see your work in action. And if the customer allows it, you can leave the lawn sign up for months after it's completed. You'll get months of free advertising this way.
When designing your lawn sign, keep it simple. Keep in mind that most people cannot see any small details on your sign. Ensure your lawn signs have your logo and company name, with our phone number and "Too Busy To Clean? Get a Free Quote" (a simple call-to-action).
FREE eBook : 49 Proven Strategies To Skyrocket Your Business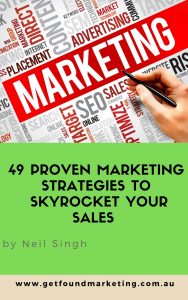 If you like some of the strategies mentioned in this article, you'll love the many other low cost and powerful tactis mentioned in our free ebook – contact us here and request your free copy
Marketing your company can take your business to the new level.
However, it does require a good deal of time and effort to do well.
Be selective and pay attention to what works. Not every strategy will be worth pursuing.
If you would like to talk to me about how I can help you. Even if you are starting your house cleaning business, please click here to make an appointment.
Neil Singh
Neil is the Founder of Get Found Marketing and Start Your Home Business. He specializes in managing marketing campaigns for local businesses and start-ups. He's helped several start up business grow and profit. Neil is a certified business consultant. When he's not writing, he's reading books on marketing, self-improvement, or science fiction.