Description
Start Your Furniture Removals Business & Earn Extra Income Today With ClientsNOW – Our Secret 13 Step System Designed To Get Your Business Off The Ground FAST And Getting Enquiries Within Days* Of Launching!
How Do You Make Money?
Summary: Make money by offering removal services for households in your local area. Help people move everything from furniture to rubbish. Starting a removalist business can be really lucrative. There will always be people who need to move houses or offices, relocate or have their rubbish removed, and it's a job people are eager to handoff.
Name: Select A Business Name (We'll help you choose the right one)
Website:  http://demos.businessgrowthclub.com.au/loganlawnmowing/    (You'll get a website similar to this one – can be customized to suit your brand)
Who it Suits: This business is ideal for people who enjoy working outdoors and like driving
Skills Required: No speciality skill needed apart from basic knowledge of customer service
Expected Revenue: You can charge clients $50 to $150 per hour. Or a fixed fee per delivery. Research shows that lawn mowing and landscaping business owners earned between $5,000 and $50,000 during their first year of business.
Marketing: Get started with your Custom Branded Website, Printed flyers, Printed business & loyalty cards, How To Start And Succeed With Your Own Business eBook, Comprehensive Operations Manual including business registrations, daily operations, bookkeeping, website management, Over 116 Powerful Marketing Strategies To Skyrocket Your Business Revenue, 132 Templates, Checklists and Sales Scripts to make your life easier, Time Management, Goal Setting & a Powerful Mindset Training Module PLUS full marketing support to get you off the ground and earning fast! Simply purchase our ClinetsNOW Business in a Box Kit to receive all the above!
LEADS SUPPLIED: We can provide daily leads and enquiries to you if you hire our marketing services – contact us to discuss further
DEDICATED SUPPORT: You are not alone …you have our full dedicated marketing support and mentoring to ensure your business is successful and constantly generating sales.
Here's What You Get With Your Website
ClientsNOW Business-In-A-Box Includes FREE – *Available only GOLD and PLATINUM Packages
Live Professional Website with your own business name including FREE Google Advertising Setup so you can start getting customer enquiries within days of launching your business ($2270)
FREE Business Cards, Loyalty Cards & Flyers so your customers can contact you for jobs ($197)
FREE How To Get Started eBook so you can learn everything you need to get started ($297)
FREE 390 Page Getting Started Operations Manual Workbook with detailed instructions on how to maintain your website, book-keeping, marketing plus much more ($597)
FREE 38 Powerful Ways To Get More Enquiries and get your phone ringing ($597)
FREE 34 Proven Ways to Increase Your Conversion by turning inquiries into sales ($597)
FREE 17 Secret Ways To Get Clients Back & Buying More from you that will drive your competition insane ($597)
FREE 28 Online Marketing Secrets that will turn your website into a powerhouse enquiry generating website ($597)
FREE 25 Time Tested Ways To Cut Overheads so your business operates profitably ($597)
FREE Time Management Tactics so you can learn how to work efficiently and effectively ($597)
FREE Guide To Goal Setting ($597)
FREE Rewire Your Mind-Set For Success workbook featuring powerful tactics highly successful business people use daily ($597)
FREE 132 Templates, Checklists & Sales Scripts to make your life easier and avoid repetitions ($897)
4 x FREE Business Coaching/ Sessions from an experienced business owner so you can start smoothly and avoid pitfalls and mistakes of operating a business ($2097)
PLUS 1st Enquiry Guarantee Within 60 Days of Launching
PLUS Dedicated Support For the First 60 Days of Your Starting Your New Business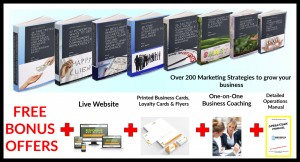 SILVER   $597
Live E-comm website
Own domain name
Custom email address
DIY marketing
GOLD   $1497
Everything in ClientsNOW Business-in-a-Box Package
Live E-comm Website
Own domain name
Custom Email address
2 Weeks Dedicated Marketing And Business Coaching
PLATINUM   $2997
Everything in ClientsNOW Business-in-a-Box Package
Live Website
Own domain name
Custom Email address
Google Analytics Connected
Google Conversions Tracking Codes & Facebook Pixels Connected
Google Search Ads Setup
Google Remarketing Setup
Facebook Ads Setup
3 x SEO Optimized Landing Pages "suburb" + "service"
4 Weeks One-on-one Dedicated Business And Marketing Coaching To Identify Opportunities, Implement Marketing Strategies & Scale For Growth
* Disclaimer: The potential earnings guide provided on this website is general in nature and does not constitute what the business will earn. Income level achievements are dependent upon the individuals business skills, personal ambition, time, commitment, activity and demographic factors & Business Growth Club have no control over what a business will or won't earn